Any Number of Sunsets…



En internationell dansperformance




Urpremiär 13 sept kl 19.00
Datum:

Torsdag 13 sept(premiär), Fre 14/9, Lör 15/9, Sön 16/9


Tid:

19.00 – ca 20.50


Plats:

Stora Scen Skillinge Teater

Pris: 290:- vuxen 190:- barn/ungdom upp till 18 år

Vi bjuder in dig till den sista solnedgången du någonsin kommer att se.

Den är lysande, psykedelisk, hallucinatorisk, banal, klichéartad och förorenad. Du kommer att värma dig i dess bleka plasticitet. Den är allt och inget av det du förväntade dig att den skulle vara.

Du vet varför du är här men du vet inte hur det kommer att vara att gå härifrån.

Det tar ca 1 timme och 40 minuter.

Vi bjuder in dig till spänningen av dina egna förväntningar på den alldeles nära, kommande och avlägsna framtiden. Vi kan inte förutspå framtiden men vi kommer att leka med den.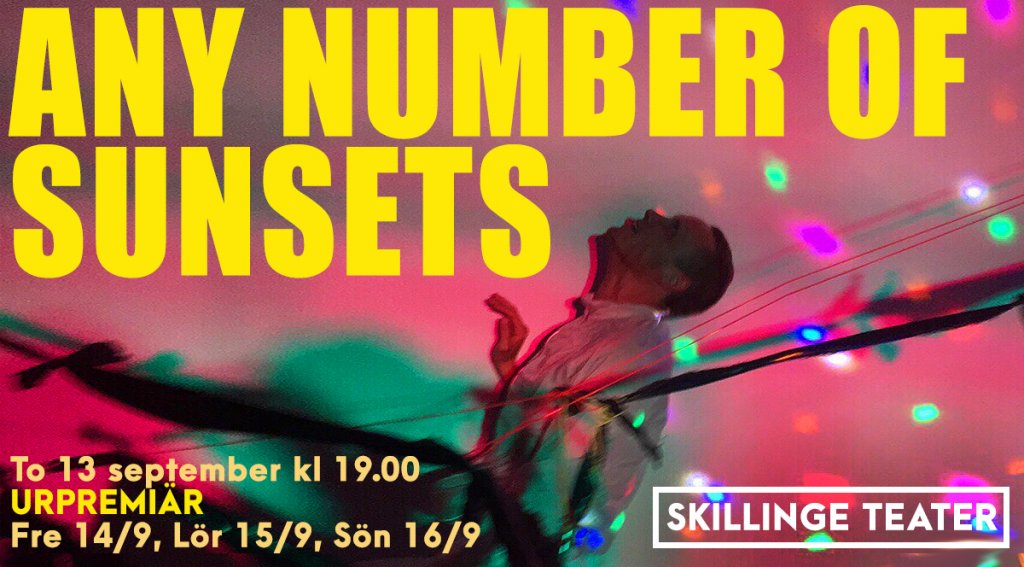 Boka dina biljetter längst ned här på sidan eller maila oss på info@skillingeteater

Koncept och koreografi: Rachel Tess
Co-choreography and performance:
Kenneth Bruun Carlsson
Nellie Björklund
Lisanne Goodhue
Anders Granström
Dinis Machado
Peter Mills
Isaac Spencer

Ljud: Ulrich Ruchlinski
Ljus och scenografi: Ulrich Ruchlinski and Rachel Tess
Konstnärlig rådgivning: Anna Pehrsson

Rachel Tess is an American choreographer and dancer living and working in Sweden.
She is the director of Milvus Artistic Research Center in Kivik and associate curator for
dance at Wanås Konst. She received a BFA in 2004 from The Juilliard School in New
York City. While attending Juilliard, Tess received a Princess Grace Award (2002),
performed as a member of the Lar Lubovitch Dance Company, and was presented with
the Martha Hill Dance Award by the faculty.

Tess has been a member of Les Grands Ballets Canadiens de Montreal, Gothenburg
Opera Ballet, and held a permanent position with the Cullberg Ballet in Stockholm. She
has premiered her choreographic works in Stockholm, Montreal, New York City, Costa
Rica, and Portland, Oregon.

Dinis Machado is a Portuguese performer and choreographer living and working in Sweden.
Machado holds a BA in Theater from the Superior School of Theater and Cinema (Lisbon, PT).
He completed the Independent Studies Program in Visual Arts at Maumaus (PT) and graduated
with an MFA in choreography from Dans och Cirkus Högskolan (SE) in 2014.

Peter Mills is a dancer, performer, choreographer, artist, activist, researcher, teacher and mentor.
Peter has an MA in choreography from Dans och Cirkushögskolan, where he worked on
choreography through documentation as an ethical practice, towards anti-authoritarian ideals.
Peter focuses on research and experimental choreography and supervises BA and MA students at
DOCH.

Nellie Björklund is a Swedish performer and actress who recently graduated NOVA
Performance Academy in Simrishamn (gymnasium). She has worked as an actress at Malmö
Operan, Skillinge Teater, Scen Österlen, and Malmö Stadsteatern. As a dancer she performed in a
'works in progress' showing with choreographer Philippe Blanchard at MARC in 2016 and has
worked in various workshops with choreographers Peter Mills and Rachel Tess through MARC
and NOVA.

Kenneth Bruun Carlson is a Norwegian freelance dancer and choreographer living and working
in Sweden. He is a graduate from the London Contemporary Dance School (2000) and the
Amsterdamse Hogeshool voor de Kunsten (2003). Carlson has been a member of Danish Dance
Theater (DK), The Cullberg Ballet (SE), Kenneth Kvarnström & Co/Helsinki Dance Company
(FI), and Skånes Dansteater (SE). He has worked with independent choreographers Martin
Forsberg, Helena Franzen, Gunilla Heilborn, Shumpei Nemoto, Björn Safsten, and Rachel Tess
among others. His choreographic works have premiered in Norway, Sweden, Denmark, the
Netherlands, and London.

Anders Granström är en svensk skådespelare och var en av initiativtagarna till Musikteatergruppen Oktober. Han debuterade som filmskådespelare 1976 i titelrollen i Sven Klangs kvintett. Han har även medverkat i bland annat Hans
Alfredsons Den enfaldige mördaren (1982) och Stefan JarlsGoda människor (1990). På TV har han bland annat synts i Studierektorns sista strid (1986), Macklean (1993) och Sjätte dagen (2000).

Anna Pehrsson is based in Stockholm, Sweden. She studied Political Science and French at
Stockholm University before training at Ballet Academy, and The Performing Group as a dancer.
She has performed with Alias Compagnie, Cullberg Ballet, and Stockholm City Theatre, in
works by Edouard Lock, Guilherme Botelho, Jefta van Dinther, Benoît Lachambre, Deborah Hay,
Eszter Salamon, Cristian Duarte, Stina Nyberg, Alexandra Waierstall and Rachel Tess among
others. In 2013, she received her MFA in Choreography at DOCH, Stockholm.

Isaac Spencer (USA/SE) received his B.F.A. from the Juilliard School in 2004. From 2004-2006,
Isaac was a member of Hubbard Street Dance Chicago and then joined the Cullberg Ballet in
Stockholm, Sweden where he held a permanent position. He is currently a freelance artist based
in Stockholm and Dresden and has collaborated with choreographer Sebastian Matthias since
2010.
Skillinge Teaters Café och restaurang håller öppet innan föreställningen med kvällsmeny och fika

Man behöver inte boka bord då vi har 130 sittplatser inne och 80 ute så det är bara att beställa när ni kommer.
Varmt välkomna!
[rhc_woo_tickets title="Biljetter" label_btn_show="Visa detaljer" label_btn_hide="Göm detaljer" label_soldout="Slutsåld" label_add_to_cart="Lägg till kundvagn" with_time="0″ show_soldout="0″]